The team at Wilson Orthodontics understands that every patient — adult or child — has different needs, and we take pride in delivering quality orthodontic care and courteous, personal service.
We put your needs first to achieve efficient and comprehensive treatment. Our staff is trained and skilled, and we strive to provide energetic and fun-loving service to each patient. Each member of our clinical treatment team is a certified orthodontic assistant, and our office staff has years of experience in treating patients with the highest level of care.
We strive to stay abreast of the very latest in technology and advances by regularly attending continuing education courses and seminars.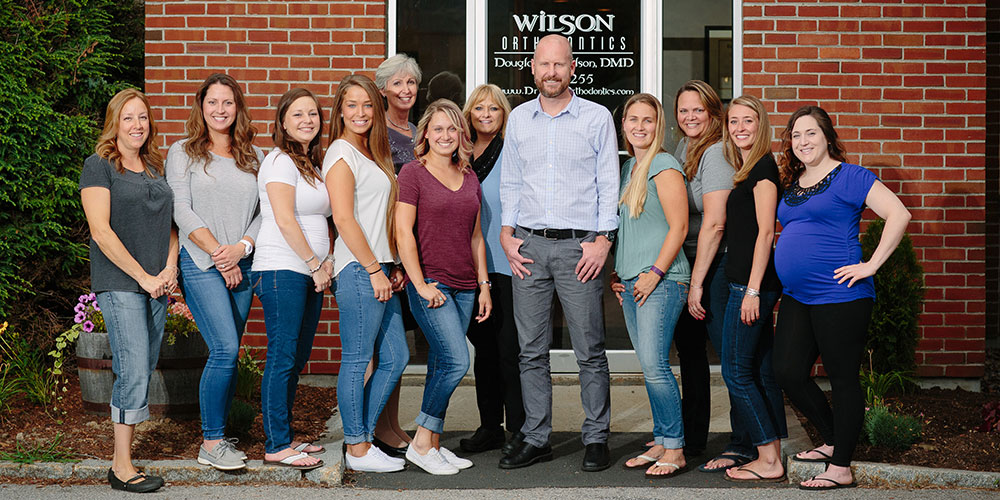 Hilary
I have over 14 years experience as a certified chairside assistant and work for both the Keene and Greenfield offices,. I love working with patients as they achieve a healthy, beautiful smile.
I enjoy traveling, being outdoors, and spending time with my family and friends.
Michele
I'm a certified chairside orthodontic assistant in both the Keene and Greenfield offices. I started my orthodontic journey in 1997 and successfully completed my dental assisting program in 1998. I joined Dr. Wilson's team in October 2010. I love seeing the progress of our patients' treatments from the beginning to the end result of a beautiful smile. I enjoy the wonderful staff I work with and the family-friendly environment here at Wilson Orthodontics.
I live in Vermont with my husband and two children. I enjoy spending time with my family, playing hockey, and being outdoors (as long as it isn't over 65 degrees).
Carolynn
I love talking with and getting to know our patients and their families. Everyone has exciting stories to share and I'm often heard laughing with our patients. I'm glad to be part of an office where our patients, team, and doctor are always smiling and happy. I welcome patients, check them in and out, verify their insurance, and schedule appointments.
When I'm not working, I enjoy hanging out with my family and friends, especially when they're barbecuing. I also like watching the Bruins hockey games and hiking with my two dogs.
Kaylynn
I love coming to work every day. It's so much fun to be surrounded by our wonderful patients and families, all of them making a lasting, beautiful change in their lives! For me, seeing a person achieve the most perfect smile is the best experience. I assist Dr. Wilson during orthodontic procedures while making sure the patient is comfortable.
When I'm not working, I enjoy being with my husband Jim and our two dogs, Cooper and Cleo. I love spending time with family and friends and going to the beach, too.
Ashley
I love being part of an amazing team: working together to help patients develop a lifetime of amazingly perfect smiles! I enjoy seeing how much a person grows during treatment: they become so much more confident and outgoing. I offer chairside assistance to Dr. Wilson during procedures. While I'm talking with the patient, I'm also helping the doctor.
Outside of work, I love spending time with family and friends and relaxing with my animals. I also enjoy gardening, baking cakes for weddings and birthdays, and teaching dance.
Lisa
I previously worked with Dr. Wilson, so when he started his practice in 2010, I gladly accepted his offer to come and work with him in his new practice. As our office manager/treatment coordinator, I work in tandem with Dr. Wilson: helping to introduce patients and parents to our practice, listening to their concerns, and going over their treatment options. I share with them what steps are involved with their treatment and what they can expect while in treatment. I find it truly rewarding to see our patients' confidence grow as their treatment progresses, and their excitement when the braces are finally removed.
When I'm not in the office, I can be found spending time with my family. I also enjoy hiking and recently joined the Cheshire Quilters' Guild.
Alyssa
I earned my associate's degree in health science and my certification as a dental assistant. I joined Dr. Wilson's team in 2014 as a treatment coordinator, which allows me to introduce patients to our wonderful practice and help design individual treatment plans with Dr. Wilson. I enjoy meeting new patients who come into the office and educating them on their orthodontic needs and various treatment options. The relationships we create and the trust they put in our team really mean a lot to me!
I'm married with two children, Wyatt and Avery. We also have a dog named Hank. I love family time, fishing, boating, going to the beach, and crafting with the kids!
Karen
I have 18 years' experience as a licensed and certified chairside orthodontic assistant in our Greenfield and Florence locations. I began my career in general dentistry as an assistant from 1997 to 2000, when I switched gears to orthodontics! I was happy to bring my clinical and insurance experience to Wilson Orthodontics in 2014. Being a clinical assistant is really a lot of fun. I get to meet new people every day and develop friendships with patients. The best part is watching as their smiles transform!
I enjoy spending time with my family and also enjoy volunteering at my son's school. When not in the office or volunteering, I can be found cheering on my son and his teammates during various sporting events throughout the year.